Click on the links: Panel descriptions. Mural Donors. Interview video links.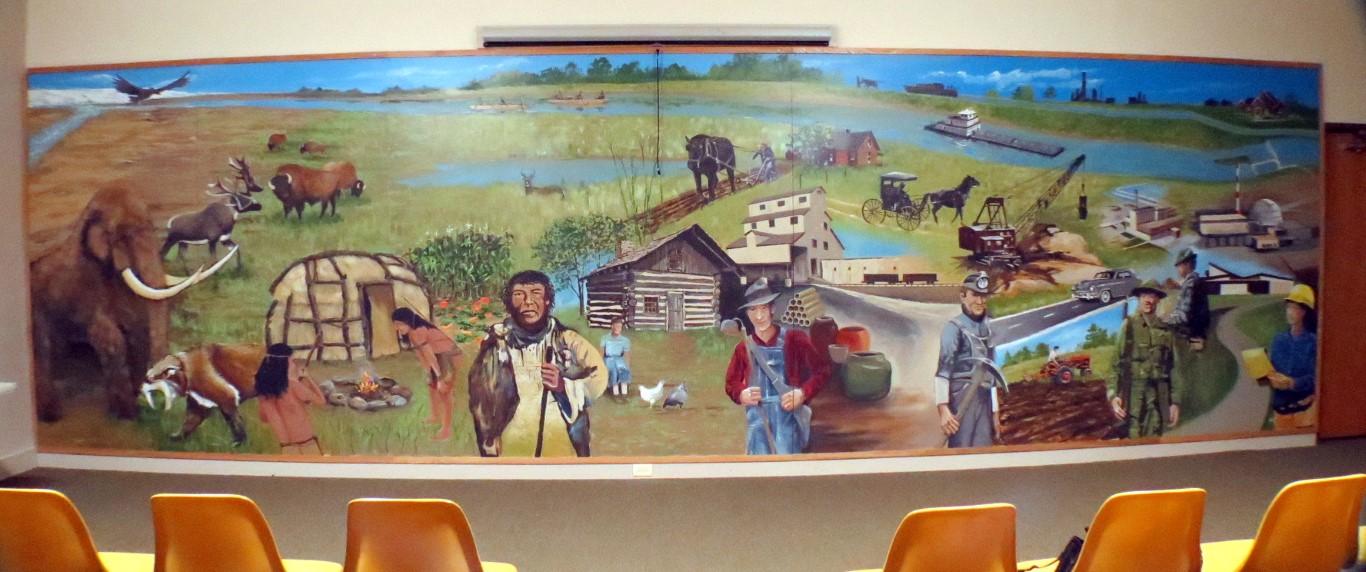 The historical mural, now on view on the north wall in the Auditorium of the Visitor's Center tells the history of the area from the days of the glacier to current day.
The mural was the project of the Goose Lake Prairie Partners under the direction of Chuck Johnson, who spent many hours formulating what the mural would depict, who would be the artist and how we would finance the project. Along with the mural, a new projector was installed in the center and a security system was also acquired to protect the mural and the displays in the center. In all Johnson managed a budget of over $8,000 through generous donations from many interested organizations, businesses, and friends of GLPSNA.
Mural Project Donors
Platinum Level
Eric K. Peterson
City of Morris
Art Rohr Memorial Fund
Anonymous Donor
Gold Level
Joannet E. Fleming
Greenway Motors
Caroline S. Johnson
Silver Level
D Construction
Unit One Educational Foundation
Felix Township Board of Directors
Bronze Level
Richard and Susan Malkowski
Randy Gordon's Office
Mayor Richard Kopzick
Goose Lake Prairie Interviews

GLP Interviews With knowledgeable people concerning the history of Goose Lake Prairie and Felix Township are being collected.
The videos were directed by Chuck Johnson and enabled by a video crew from the Joliet Junior College.

NOTE: Once you double-click on a name, you will be taken to the YouTube website for viewing. When the video is completed, click the back arrow to return to this page.

--Ray Grossi, the Muralist, Planning and Painting of the Mural, August 2016
--Joe Nyhoff, first park superintendent, The Park's Early Days, August 2016
--Joe Wheeler and Kelly Gutknecht, Naturalist at Midewin Natural Wildlife Refuge, Bison, August, 2016
--Ken Sereno, Development of the Morris Area and Chief Shabbona, August 2016
<![endif]> --Michele Micetich, Life of Coal Miners in Felix Township, August 2016
--Dan Kirk, DNR Biologist, Biology of a Prairie Park, August 2016



Return to Home page.