---
2019 Fundraiser Winner Announced
The Winner of the Quilt Fundraiser's name was drawn at the 22nd Annual Prairie Day Saturday, September 21 at 2:30 p.m.
We are so proud to announce that the Log Cabin Queen sized Quilt has been presented to Ms. Jan Goetz of Goose Lake Saturday following the Festival by President Char McDade.. Ms. Goetz was so excited to be the recipient of this quilt.

The quilt was made by Prairie Partners Bev Mansfield and Becky Sipple with Bev doing the Cragg Cabin applique in the center. Lovely job ladies and Congratulation to Jan!

The proceeds from this fundraiser are to be donated to the Cragg Cabin Rebuild Project. Thank you to all who participated and to Tom Kaluzny who sold the
winning ticket.
---
Must-See Books
in the Gift Shop...
Rachel and Sammy
Visit the Prairie

Rachel and Sammy
Visit the Forest
Fun Children's Books
and Junior Field Guides.
By Jannifer Powelson.

A "Must-See" ITEM!


Children will be introduced
to about a dozen prairie plants
in this book. The author is a
biologist and a photographer.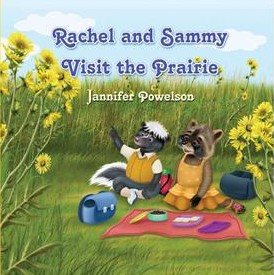 Ms Paulsen also wrote the book - book Rachel and Sammy
Visit the Forest.
This book is in the Gift Shop.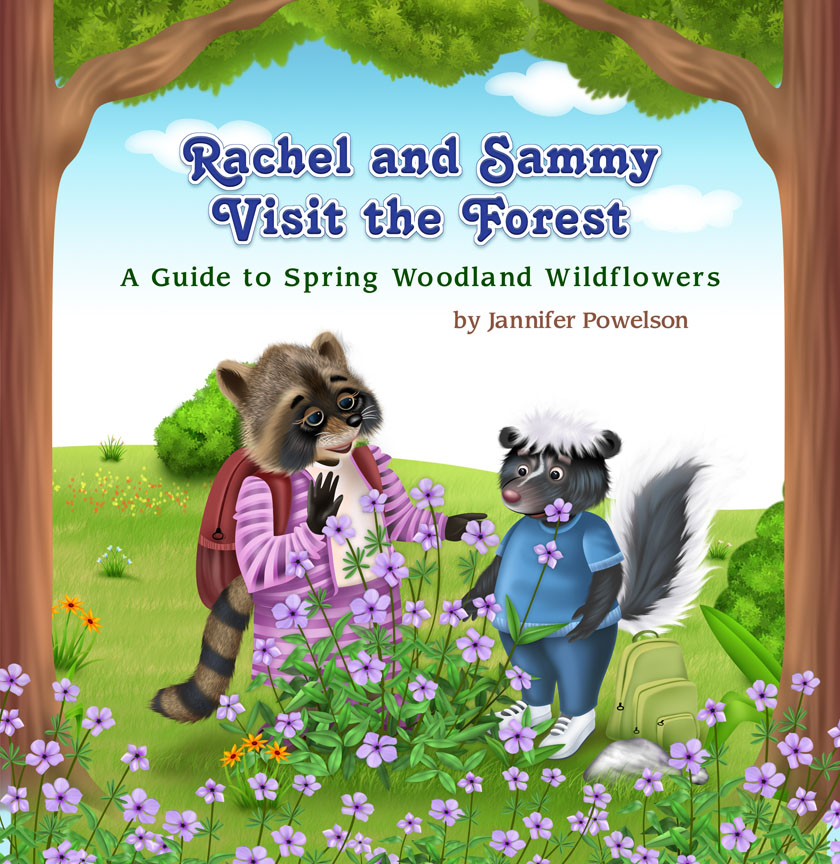 The third book in the series is also published.

Several Children's Books
are available.

---
---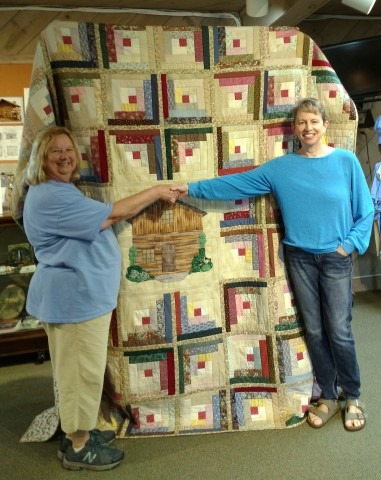 ---
Books:

The gift shop manager keeps a nice selections of nature study books on hand at a very reasonable prices.

For the younger set, find coloring books, puzzle books and nature study.

Peterson's Pocket sized guides and Golden Guide books featured are on birds, butterflies, wildflowers, prairies, animal tracks, weather, mammals,
fossils, reptiles & amphibians,
rocks & minerals, and
solar system.
---
Hand-woven Rag Rugs

Our Specialty

Rag Rugs are made on the cherry wood Jack loom that sits in the museum of the visitor's center. This is a typical rug, finished with fringe. Most rugs are made during open hours at the center. Our nice ones are for sale. Check the Museum Sales Shelf
by the Jack Loom.
.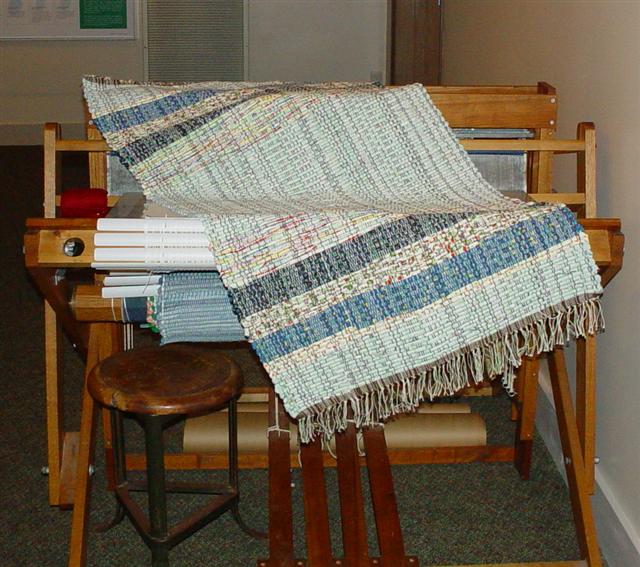 Rag Rug from Cotton Fabric Strips.




GLPSNA PARK PATCH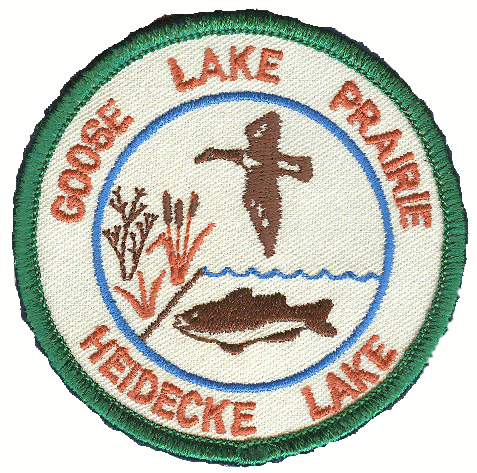 Available in the Center
$4.00
---
Jewelry:
Jewelry might include -
Handmade beaded bracelets

Arrowhead necklaces with Goose Lake Area homemade beads

Necklaces from all natural Materials.
---
A variety of items are available for children:
handmade pioneer dolls, simple binoculars, compasses, arrowheads, and beaded items. Plastic frogs, snakes and lizards decorate the display case.
---
GRUNDY COUNTY BUCKSKIN


Leather pouches or bags are on sale in the gift shop. Made from A deer skin bagged in Grundy County, these bags are just right for your cell phone, camera, coins, etc.

Priced from $8 to $10
Each one is unique.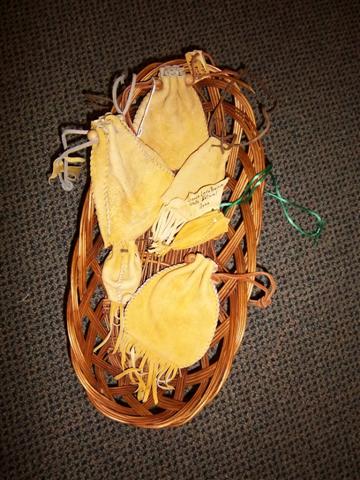 YOU MUST VISIT
THE GIFT SHOP.

YOU NEVER KNOW
WHAT YOU WILL SEE
THAT YOU WILL NEED.
---
We accept Checks or Cash Only
.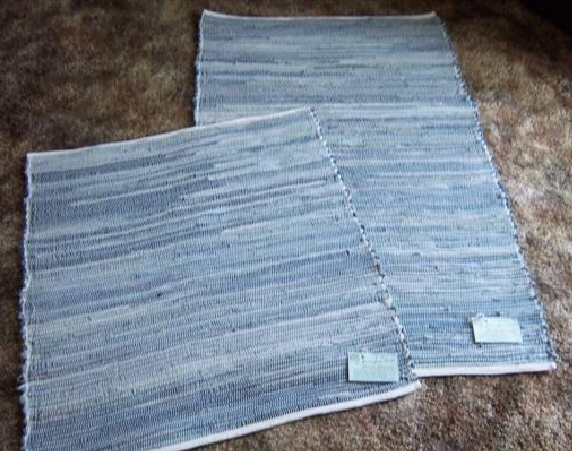 Rag Rugs wove with Denim Strips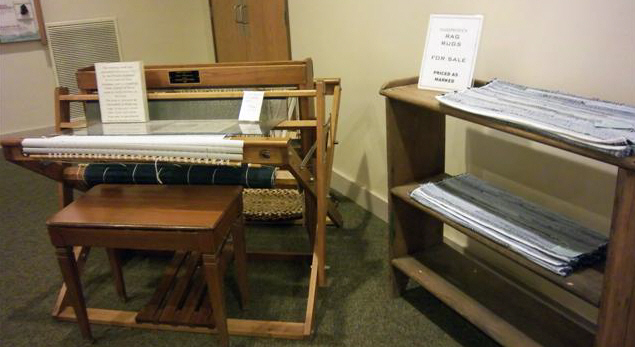 4-Harness Jack Loom with Sales shelf
We appreciate the donation of cotton fabric or lovely worn but now discarded jeans. They will be used in our jeans/weaving project.
Sales from the rag rugs we weave go to help us fund new purchases in the gift shop.
Clothing Line:


In 2006 the Partners began a clothing line. The line supported a new park logo printed on beige. The color is now a lovely light blue.


All Beige T-shirts and
Polos are on sale.

Our beige line is discontinued.

---
The Logo in our Clothing Line: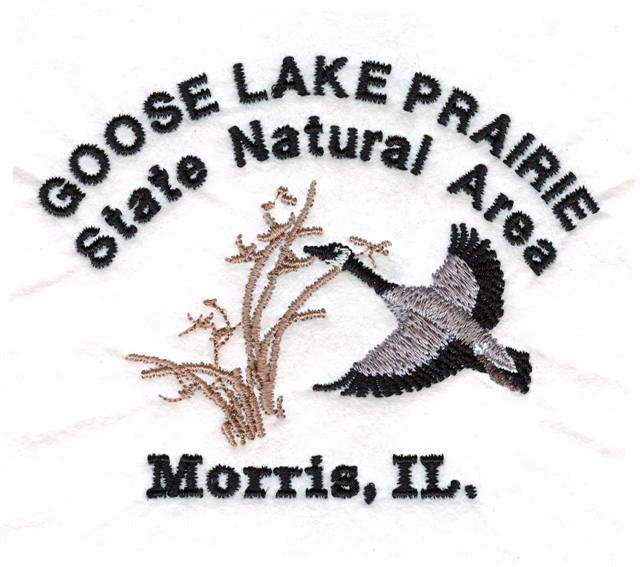 Clothing items available are T-Shirts, Polo Shirts, and caps.

We carry adult and children sizes.

Check the Center for sizes
and availability.

Questions? Call 815-942-2899.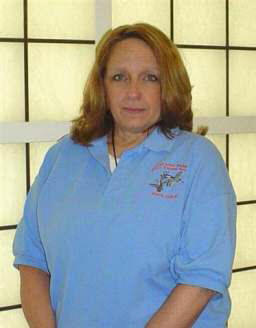 Jackie Martin models the new
blue Polo Shirt.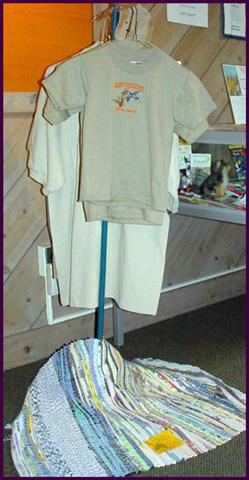 Your purchases and donations allow the Partners to provide educational programs and displays for the center and Cragg Cabin re-enactments.
We thank you for
your patronage.
Goose Lake Prairie Partners
is a not-for-profit organization.
We provide a "certificate of gift" for tax purposes.