Current Fundraiser Project: 2019 to present day.

Cragg Cabin Rebuild Due to extensive deterioration of the Cabin, we are doing a fundraiser to rebuild the cabin. This will give us a chance to bring the cabin back to the original description. For this project we need your help. PayPal Donations will help us meet our goal of $56,500 covering labor and materials to replace
our magnificent Cabin.

Our Cabin Rebuild Campaign is in full swing. We have several ways in which you can donate to this cause and help us rebuild.
We have our Birdhouse and Cabin Donation boxes located at the Visitors Center at Goose Lake Prairie. Cash or Check is accepted.
If you want to pay by credit card we have a non-profit account set up in Paypal (you do not need to have a paypal account).
<form action="https://www.paypal.com/donate" method="post" target="_top">
< input type="hidden" name="hosted_button_id" value="NAG9CHKKXUDR2" />
< input type="image" src="https://www.paypalobjects.com/en_US/i/btn/btn_donate_LG.gif" border="0" name="submit" title="PayPal - The safer, easier way to pay online!" alt="Donate with PayPal button" />
< img alt="" border="0" src="https://www.paypal.com/en_US/i/scr/pixel.gif" width="1" height="1" />
< /form>
You can also donate through Facebook with your credit card. We also accept checks through the mail and will gladly provide you with the address. Just message us for that information! I have also enclosed our brochure if you want to learn more or join us and volunteer!
And most of all --thank you!!!! We cannot accomplish this feat without the friends of the Prairie!!
View Slide Program: Rebuilding Cragg Cabin. Click here.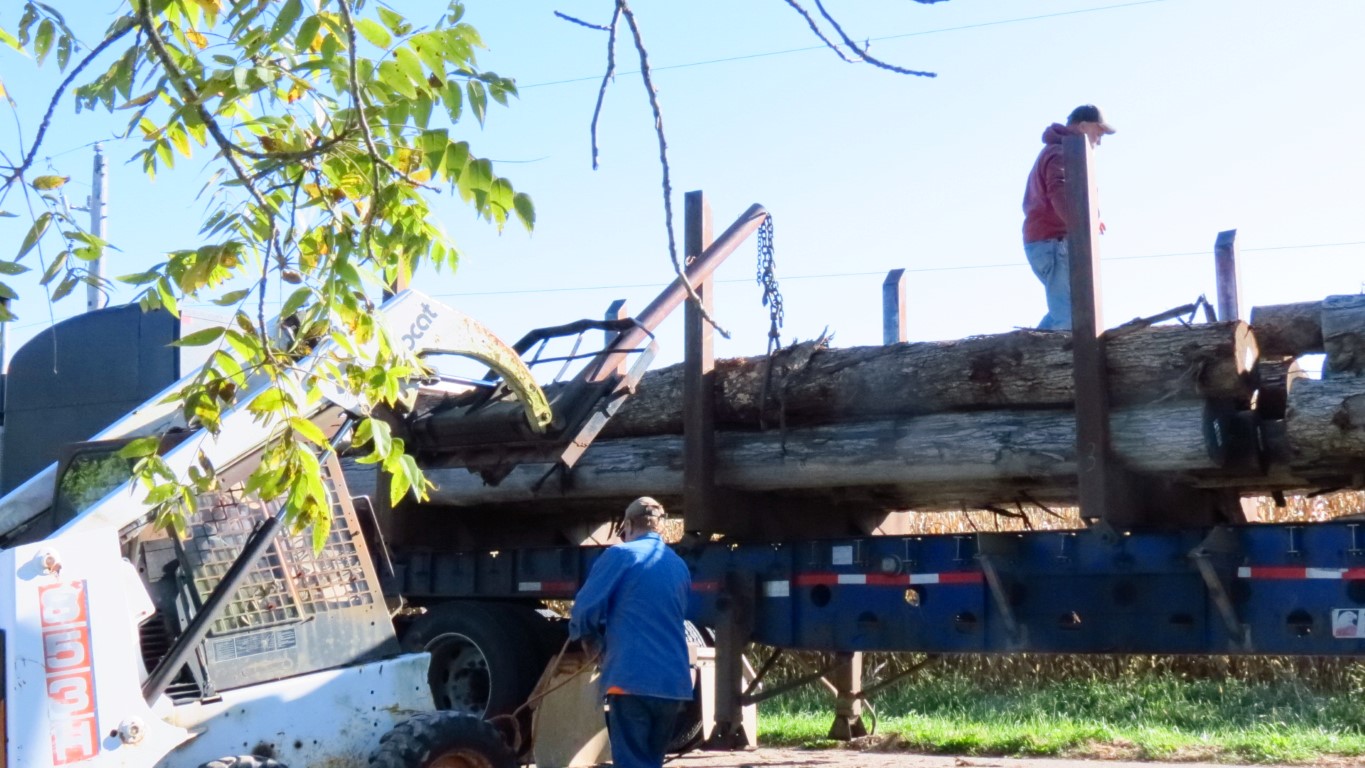 White Oak logs are on site for the beginning of rebuilding the Cragg Cabin. Bark has been stripped, and logs are ready for the next step. 54% of the $56,500 needed has been received.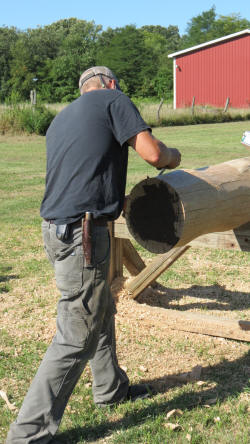 Our builder, Todd Daggett has completed the removal of the bark and the sap wood. The next step is to cut the logs to fit the size of the new cabin. If the weather would work with us, Todd thinks in one month, we will be moving the cabin to the park and tear down the old one.
Removal of the bark is labor intensive, done primarily with hand tools.

Pictures: Todd removes the bark from the logs and also, we show how Todd moves the logs in the lay-down area.