Goose Lake Prairie Partners

Volunteers at Goose Lake Prairie State Natural Area
5010 N. Jugtown Road off Pine Bluff Road, Morris, IL 60450
Site Index:

Park Programs
Prairie Partner Activities
Cabin Festival
Nature Photo Contest
Prairie Day
Holiday Party
Gift Shop
Hiking Trails
Nature Study
Fishing & Hunting
Donors & Donations
Tallgrass Journal

Take only Memories. Leave only Footprints. Thank You Very Kindly.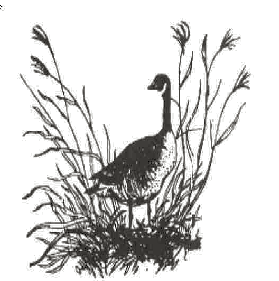 Monthly meetings

-

First Tuesday of the month at 5:30 p.m. - Park Visitors Center at 5:30 p.m.
Refreshments - 5:00 p.m.



If you are interested in attending ask to have your name added to our membership list for emails.



WE WELCOME VISITORS TO OUR MEETINGS.
Call the center for more information. 815-942-2899.

NOTE: Members will not have meetings until March, 2016 and end in November unless you receive a call from the President.



Partner Projects - Program Meetings TBA.
*Scroll down for Partner Awards

Special work sessions are called as needed.
We work on weaving projects and other projects
that improve our gift shop sales.
If you would like to lend-a-hand email, or
call to have your name added to the call list.
Email cjohnson0969@comcast.net

Volunteer Desk Service on weekends
will begin April 2nd, 2016
and end with the holiday party in November.


Wants and Needs:


A new list will be posted soon.

If you are on FaceBook... please "Friend" our page.


PRAIRIE PARTNER AWARDS



2016 - IDNR Outstanding Volunteer of the Year 2016 honored at the Springfield Fair August 20th.
Caroline (Susie) Johnson recognized for service to Goose Lake Prairie from 1998 to 2016.


Click here

for letter of recommendation.
First photo was the presentation and second is the "Susie Fan Club" that traveled to Springfield.
John McDade took the formal pose. Donna Snow took the group photo.
Site Superintendent Snow nominated Susie for this honor.


2015 Volunteer of the Year - Jackie Martin
Jackie serves as Treasurer and Purchasing Agent for GLPP. She is also Chairperson for our Food Tent and is a weekend desk service host.

2014 Volunteer of the Year - Debbie Mahler
Debbie serves as a weekend desk service host and works in the food tents at the festivals.

2011 Volunteer of the Year from State IDNR: Jo Fleming
Joannet Fleming was honored for 28 years of service to Goose Lake Prairie State Natural Area.


Click here

for a photo story of the event at Springfield.

Click here

for letter of recommendation.

Standing with Jo is (LtoR) Supt Joe Giacone, IDNR Director Mark Miller, former Supt Joe Nyhoff, and Chief of the Division of Parks Jim Modglin.

---
Volunteers Recognized for GLPSNA in 2009 by IDNR

Nominations letter : IDNR State Awards List. IDNR Outstanding Award Article : Certificate : Larger Photo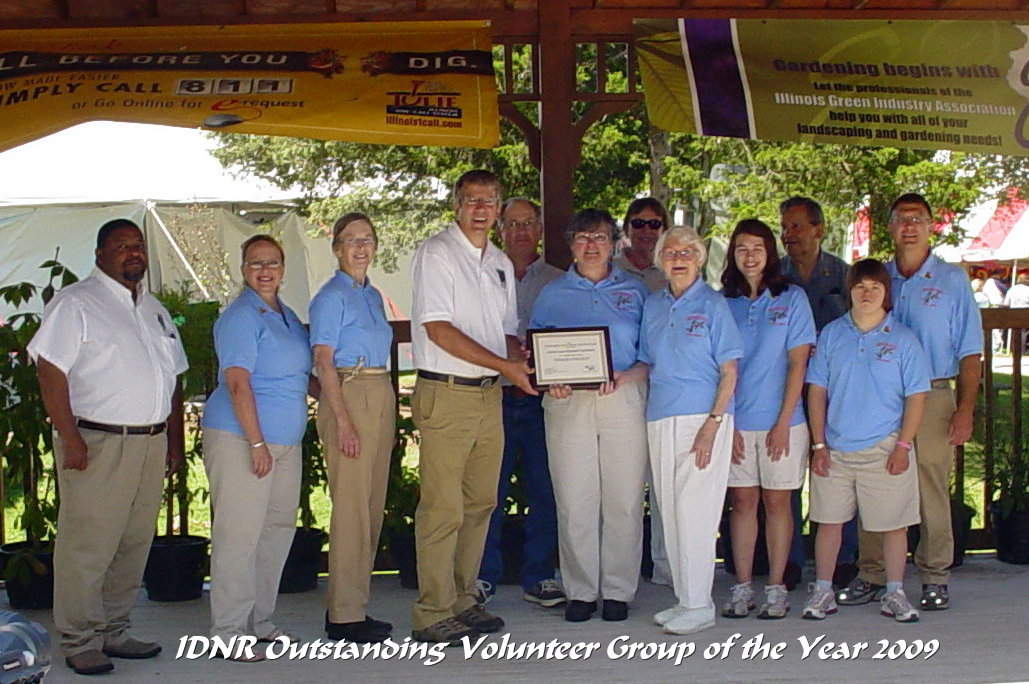 Accepting the plaque in Springfield August 22, 2009 were Region Two Land Manager Chris Rollins,
Secretary Treasurer Jackie Martin, Vice-President Beverly Mansfield,
IDNR Assistant Director John D. Rogner presenting, Site Superintendent Joe Giacone, President Susie Johnson, Director Pat Christensen, and Director Joannet Fleming,
Additionally, members Andrea Kaluzny, Harry Christensen, Audrey Kaluzny and Tom Kaluzny were on stage. Chuck Johnson, John and Char McDade was also in attendance.
---
OUR MISSION

The Goose Lake Prairie Partners are a Not-For-Profit organization and the only volunteer group associated with the Goose Lake Prairie State Natural Area, Heidecke Lake State Fish and Wildlife Area and Morris Wetlands State Fish and Wildlife Area. Our mission is to help the park in the following ways.
-- To understand, maintain and attract the public to the park by producing various festivals and educational events and display's centered around early life on the prairie and on the natural environment of the park, and
-- To provide assistance and funds as needed by the park and its staff for equipment, supplies, and other items for improvement and maintenance.